We are looking for members that can support the research activities at our organization.
 Our research activities have been supported by the supporting membership fees from over 600 corporations and organizations from the industry-academia-government of Kyushu, Okinawa, and Yamaguchi.We also provide membership services to our supporting members to take advantage of the "production, accumulation, and exchange of wisdom" function of the information hub that our organization takes pride in.
 The supporting membership offers charter sponsor and general membership, depending on the membership fee and services. We also offer municipal membership and individual membership for local government and individuals who meet the special requirements.
| | |
| --- | --- |
| *Municipal membership・・・ | Local governments of cities/towns and any related organizations. |
| *Individual membership・・・ | As a regulation, individuals must be engaged in research activities on regional economy at universities and other institutions, and for non-profit purposes.Confirmation from the chief director is required to become a member. |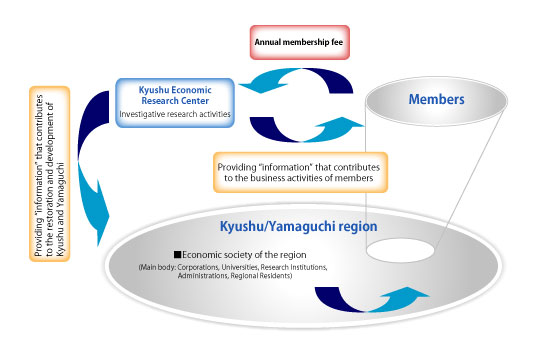 Membership Type and Fees
Please do not hesitate to contact the Business Development Department. 
TEL: 092-721-4909、Contact Form

We are accepting contributions that can support research activities at our organization.
  Our organization has been recognized for its high public awareness, and donations are applicable to the expansion of the upper limit of debts-against-income.Donations will utilized for activities contributing to regional society, through investigative research, to propose a policy to create a better tomorrow for Kyushu.We would like to wish you the best regards for your consideration of donations.
Please contact the General Affairs Department for any inquiries. 
TEL: 092-721-4900、Contact Form